Building a new home
Setting the scene
I'd pretty much given up on owning my own home again. Emerging from my depression and divorce I lacked the savings, income, career history or projected working life that would have made getting a mortgage a realistic prospect. Added to this I'd moved from northern Scotland to the south of England, exchanging tall mountains for towering house prices. It felt like renting was to be my future and to be honest it wasn't a problem, I've never been much of a homebuilder or DIY enthusiast and with so much uncertainty about where my life might be leading it gave me some useful flexibility. And so I moved from tenancy to tenancy, enjoying the variety and not really considering that there might be an alternative.
I'm not sure when things started to change. My return to the conventional work world had gone remarkably smoothly and after a year in my first 'regular' job - the only one that would have me after years out of the workplace - I'd moved on to something that was both professionally superior and much better paid. The new job came with another new town but whereas Maidstone had felt like a stepping stone almost from the outset I found myself settling into Bradford-on-Avon as somewhere that might develop into a hometown. On a deeper level I had a sense of some form of emotional stability starting to establish itself within me after what felt like many, many years of transitional and transformational turbulence. Ironically this was topped off by the ending of my relationship which put me into the position of only having myself to think about - a more selfish outlook but one that pushed me into isolating and examining my own impulses a bit more closely. All in all I was finding that my physical and emotional states were settling into something a bit more solid and from this new perspective I could maybe look again at how I fitted into the world.
Not, I hasten to add, that this was happening on a conscious level. Back in my twenties I'd read Operators & Things by Barbara O'Brien, the account of a woman who had developed schizophrenia, spontaneously recovered, and retained her memories of being in that altered state (recommended reading for anyone interested in the workings of the mind). One of the themes from the book is that our unconscious mind can have a wider and deeper 'understanding' than our conscious ego and will often steer us in directions that we don't realise are for our benefit at the time. A sort of inner Guardian Angel if you like. This idea resonated with me almost immediately and has stayed with me as an increasingly plausible explanation for many of my actions. Certainly it was the only way I could explain walking into an estate agent on the way home from work and asking whether I'd be able to get a mortgage.
To my amazement it appeared that I could! In this new financial age (my previous mortgage had been taken out in the late 1980's) my current savings and income were all that were needed to get the promise of loan money for a new house. No need for years of verifiable employment or multiple character references from pillars of society, even the fact that I'd still be paying it off in my seventies was no deterrent to the cornucopia of the banking system. With monthly repayments not much more than I was currently paying in rent I could afford a modest place in Bradford without pushing myself into penury so I signed up with a couple of estate agents, set up some internet searches and waited to see what was available.
As I started to look at places they quickly established themselves into two camps. My budget, although seemingly immense from 20th century memories of house prices ("A quarter of a million pounds!!!") was comparatively feeble for Bradford and automatically excluded most of the available properties. The ones that were still viable were either small & quirky old places or new apartments in the mock-warehouse 'conversions' along the riverside.

The Georgian Lodge
The newer apartments were the easiest to reject. They tended to be small, a bit boxy & anonymous, and crammed in together with nothing but parking spaces around the repetitious blocks. All seemed to have a combined kitchen / dining / living room layout, bedrooms just big enough for a double bed and, unfailingly, a large en-suite attached to the 'master' bedroom. This 'feature' continues to bemuse me - having what is effectively a second bathroom in a two-bedroom flat seems like a ridiculous choice, especially as it then cuts into the space available for the other rooms. Another strange but common design element was the lack of cupboard space in the kitchen that was deep enough for frying pans, casserole dishes, etc, resulting in them being stored on top of the units. Not a great option for someone of my height. These flats reminded me of holiday apartments, comfortably liveable but not somewhere you'd want to stay for a long period of time. A reflection on our times perhaps?
The older places were more interesting but were often just a bit too quirky - small, oddly shaped rooms, tight staircases (and lots of them - one of the houses extended over four stories with just a single room on most of them), lack of access and so on. To say nothing of wiring, plumbing & other fittings that dated back to Olden Times and threatened dire consequences should they break. I feel that given time I'd have found something that would have been the perfect fit for me but that the process could easily have taken decades.
After returning to one of the estate agents from another disappointing viewing I was persuaded to have a look at a glossy brochure for a refurbishment project in the town. This was the Georgian Lodge, a handsome building in the centre of Bradford that had stood empty since I'd arrived in the town. I'd seen work start on it a few months previously but had assumed that it would be way out of my range and had mentally dismissed it. However young Duncan was insistent that this could be just what I was looking for and a quick glance through showed that the prices were (just about) affordable, so we made a date for a viewing and I took the brochure away with me to ponder over.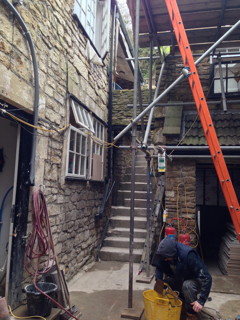 Rear courtyard
The more I looked through the blurb the more attractive it became. The elegant street-facing house would be split into an office on the ground floor and two flats above it but there was a larger section of the building hidden behind it that was to be developed into six further flats clustered around a central courtyard. The two flats at the front of the house looked very tempting but there was also a maisonette in the rear section that caught my interest, not least as I didn't realise that people still used the expression 'maisonette'. I looked forward to my viewing with increasing excitement.
Sadly my first visit to the site started with disappointing news - both of the street-facing flats had already been sold. Bah! However the maisonette was still up for grabs so we made our way through the seeming chaos of the building site to have a proper look at it.
My reading of the glossy brochure hadn't prepared me for the reality of the project - this was definitely a building site and although I'd be viewing something there was a lot of mental addition and subtraction required to get an idea of the final result that I'd actually be buying. A lot of what was there was due to be ripped out, some of the basic elements (like the floor!) weren't in place and there was building debris pretty much everywhere. Despite all this I found myself immediately warming to the place, as if my subconscious had internally constructed the end product and had, perhaps guardedly, given it the OK.
A nice surprise was finding that this unit came with a garden and, delightfully for me, the door to it would open from the upper storey. I love split levels & asymmetric layouts and the prospect of having access to the garden from an upstairs bedroom fills me with childlike delight, especially as this would be my home office.
However my sensible aspect still had questions to be answered. The plans in the brochure had no dimensions and were vague about a lot of the details, even when viewing the actual place. I arranged to come back and meet with the developer in a few days time to get a better idea of what the final result would be. But overall I was tempted.